Angaben gemäß § 5 TMG:
Humakt e.V.
Lindenstraße 3
48161 Münster
Vertreten durch:
Vorsitzende Tobias Brosinske und Robin Mitra
Kontakt:
E-Mail: info@humakt.com
Registereintrag:
Eintragung im Vereinsregister.
Registergericht:Amtsgericht Münster
Registernummer: 6100
Verantwortlich für den Inhalt nach § 55 Abs. 2 RStV:
Humakt e. V. vertreten durch Tobias Brosinske und Robin Mitra
Wir sind nicht bereit oder verpflichtet, an Streitbeilegungsverfahren vor einer Verbraucherschlichtungsstelle teilzunehmen.
Haftung für Inhalte
Als Diensteanbieter sind wir gemäß § 7 Abs.1 TMG für eigene Inhalte auf diesen Seiten nach den allgemeinen Gesetzen verantwortlich. Nach §§ 8 bis 10 TMG sind wir als Diensteanbieter jedoch nicht verpflichtet, übermittelte oder gespeicherte fremde Informationen zu überwachen oder nach Umständen zu forschen, die auf eine rechtswidrige Tätigkeit hinweisen. Verpflichtungen zur Entfernung oder Sperrung der Nutzung von Informationen nach den allgemeinen Gesetzen bleiben hiervon unberührt. Eine diesbezügliche Haftung ist jedoch erst ab dem Zeitpunkt der Kenntnis einer konkreten Rechtsverletzung möglich. Bei Bekanntwerden von entsprechenden Rechtsverletzungen werden wir diese Inhalte umgehend entfernen.
Haftung für Links
Unser Angebot enthält Links zu externen Webseiten Dritter, auf deren Inhalte wir keinen Einfluss haben. Deshalb können wir für diese fremden Inhalte auch keine Gewähr übernehmen. Für die Inhalte der verlinkten Seiten ist stets der jeweilige Anbieter oder Betreiber der Seiten verantwortlich. Die verlinkten Seiten wurden zum Zeitpunkt der Verlinkung auf mögliche Rechtsverstöße überprüft. Rechtswidrige Inhalte waren zum Zeitpunkt der Verlinkung nicht erkennbar. Eine permanente inhaltliche Kontrolle der verlinkten Seiten ist jedoch ohne konkrete Anhaltspunkte einer Rechtsverletzung nicht zumutbar. Bei Bekanntwerden von Rechtsverletzungen werden wir derartige Links umgehend entfernen.
Urheberrecht
Die durch die Seitenbetreiber erstellten Inhalte und Werke auf diesen Seiten unterliegen dem deutschen Urheberrecht. Die Vervielfältigung, Bearbeitung, Verbreitung und jede Art der Verwertung außerhalb der Grenzen des Urheberrechtes bedürfen der schriftlichen Zustimmung des jeweiligen Autors bzw. Erstellers. Downloads und Kopien dieser Seite sind nur für den privaten, nicht kommerziellen Gebrauch gestattet.
Soweit die Inhalte auf dieser Seite nicht vom Betreiber erstellt wurden, werden die Urheberrechte Dritter beachtet. Insbesondere werden Inhalte Dritter als solche gekennzeichnet. Sollten Sie trotzdem auf eine Urheberrechtsverletzung aufmerksam werden, bitten wir um einen entsprechenden Hinweis. Bei Bekanntwerden von Rechtsverletzungen werden wir derartige Inhalte umgehend entfernen.
Ein Verzeichnis der Bilder auf dieser Website befindet sich hier.
Lizenzen
HeroQuest ist ein Rollenspielsystem von Robin D. Laws, das bei Chaosium Inc. auf Englisch und bei Humakt e.V. unter Lizenz auf Deutsch erscheint. Die Nutzung von HeroQuest auf Humakt.com geschieht unter Lizenz von Chaosium Inc.
Die Spielewelt Glorantha wurde von Greg Stafford erschaffen und ist Eigentum von Chaosium Inc. Die Nutzung von Glorantha auf Humakt.com erscheint mit Lizenz und freundlicher Unterstützung von Chaosium Inc.
This website uses trademarks and/or copyrights owned by Moon Design Publications LLC, which are used under Moon Design Publications's Fan Material Policy. We are expressly prohibited from charging you to use or access this content. This website is not published, endorsed, or specifically approved by Moon Design Publishing. For more information about Moon Design Publications and Moon Design Publications products, please visit glorantha.com.
QuestWorlds Open Game License, Version 1.0
All Rights Reserved.
Definitions:
(a) "Contributors" means the copyright and/or trademark owners who have contributed Open Game Content;
(b) "Derivative Material" means copyrighted material including derivative works and translations (including into computer languages), potation, modification, correction, addition, extension, upgrade, improvement, compilation, abridgment, or other forms in which an existing work may be recast, transformed, or adapted;
(c) "Distribute" means to reproduce, license, rent, lease, sell, broadcast, publicly display, transmit, or otherwise distribute;
(d) "Open Game Content" means the QuestWorlds game, including the game mechanics and the methods, procedures, processes, and routines to the extent such content does not embody Prohibited Content and is an enhancement over the prior art and any additional content clearly identified as Open Game Content by the Contributor, and means any work covered by this License, including translations and derivative works under copyright law, but specifically excludes Prohibited Content;
(e) The following items are hereby identified as "Prohibited Content": All trademarks, registered trademarks, proper names (characters, deities, place names, etc.), plots, story elements, locations, characters, artwork, or trade dress from any of the following: any releases from the product lines of Call of Cthulhu, Dragon Lords of Melniboné, ElfQuest, Elric!, Hawkmoon, HeroQuest, Hero Wars, King Arthur Pendragon, Magic World, Nephilim, Prince Valiant, Ringworld, RuneQuest, 7th Sea, Stormbringer, Superworld, Thieves' World, Worlds of Wonder, and any related sublines; the world and mythology of Glorantha; all works related to the Cthulhu Mythos, including those that are otherwise public domain; and all works related to Le Morte d'Arthur. This list may be updated in future versions of the License.
(f) "Trademark" means the logos, names, marks, signs, mottos, and designs that are used by a Contributor to identify itself or its products or the associated products contributed to the QuestWorlds Open Game License by the Contributor;
(g) "Use," "Used," or "Using" means to use, distribute, copy, edit, format, modify, translate, and otherwise create Derivative Material of Open Game Content;
(h) "You" or "Your" means the licensee in terms of this agreement.
Grant: Except for material designated as Prohibited Content (see Section 1(e) above), the QuestWorlds System Reference Document is Open Game Content, as defined in the QuestWorlds Open Game License version 1.0, Section 1(d). No portion of this work other than the material designated as Open Game Content may be reproduced in any form without permission from Moon Design.

The License: This License applies to any work Using QuestWorlds Open Game Content published by Moon Design. You must affix a complete copy of this License to any QuestWorlds Open Game Content that You Use and include the Copyright Notice detailed in Section 7 in all appropriate locations. No terms may be added to or subtracted from this License except as described by the License itself. No other terms or conditions may be applied to any QuestWorlds Open Game Content distributed Using this License.

Offer and Acceptance: By Using the QuestWorlds Open Game Content You indicate Your acceptance of the terms of the QuestWorlds Open Game License.

Grant of License: Subject to the terms and conditions of this License, the Contributors grant You a perpetual, worldwide, royalty-free, non-exclusive license to Use the Open Game Content.

Representation of Authority to Contribute: If You are contributing original material as Open Game Content, You represent that Your contributions are Your original creation and/or You have sufficient rights to grant the rights conveyed by this License.

Copyright Notice: You must update the Copyright Notice portion of this License to include the current version of the text of the Copyright Notice of any QuestWorlds Open Game Content You are copying, modifying, or distributing.

This work was created using the QuestWorlds Open Game License.
QuestWorlds Open Game License v 1.0 © copyright 2020 Moon Design Publications LLC.
QuestWorlds © copyright 2019–2020 Moon Design Publications LLC; Author, original rules: Robin D. Laws; developed by Greg Stafford, Ian Cooper, David Dunham, Mark Galeotti, Jeff Richard, Neil Robinson, Roderick Robinson, David Scott, and Lawrence Whitaker.
QuestWorlds and the QuestWorlds logo are trademarks of Moon Design Publications LLC. Used with permission.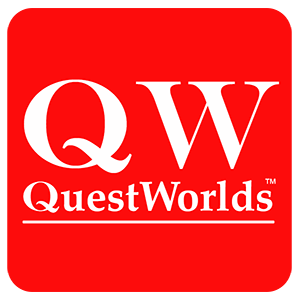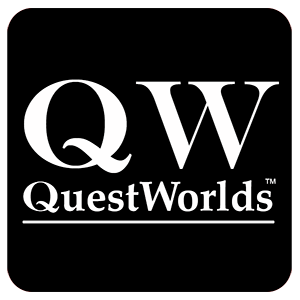 Severability: If any provision of this License is held to be unenforceable, such provision shall be severed only to the extent necessary to make it enforceable.

Governing Law and Venue: The governing law for any disputes arising under this License shall be the laws of the State of Michigan, without reference to its choice of laws provisions. Venue is exclusively vested in the United States Federal District Court for the Eastern District of Michigan.